Saturday, November 3, 2007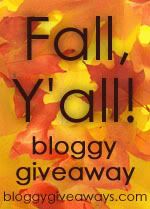 In my short time in the blog world I've entered many giveaways, and even won one. I'm always so in awe of the great prizes that blogs give away every day and have been thinking about paying it forward for awhile now. Well, the time has come! If you haven't heard of the Bloggy Giveaways, click on over to
this post
. There are literally hundreds of bloggers giving things away, and you can enter every single one!
I wouldn't feel right entering without giving something away myself, so the prize I'm offering is a custom monogrammed minkee lovey blanket like this one. The winner will get to choose colors and the name to be embroidered. Many of you know that I sell my things but I don't talk a lot about it because that's not what this blog is about (and because I don't have anything instock!). But I've been doing it for close to three years now and I love giving things away every now and then, just because. It makes me feel good knowing that I may have brightened someone's day.
So! What do you have to do to enter? Easy peasy. Leave me a comment on this post. That's it! Any type of comment! It can be long or short, funny or serious. Just say anything you want and you will be entered. The post will be open for comments all week and I will draw a winner November 3rd. I'll then contact the winner to get the details for your prize. Make sure you comment on THIS post though, comments on other posts won't be included!
Please make sure you leave me a way to contact you.
If your blog isn't listed in your profile, you need to leave me an email address! There are a couple comments with no blog or email address so unfortunately those will have to be disqualified!
288 comments:
Mon Oct 29, 12:28:00 PM EDT
Mon Oct 29, 12:37:00 PM EDT
Mon Oct 29, 12:42:00 PM EDT
Mon Oct 29, 12:43:00 PM EDT
Mon Oct 29, 01:03:00 PM EDT
Mon Oct 29, 01:07:00 PM EDT
Mon Oct 29, 01:07:00 PM EDT
Mon Oct 29, 01:12:00 PM EDT
Mon Oct 29, 01:16:00 PM EDT
Mon Oct 29, 01:21:00 PM EDT
Mon Oct 29, 01:22:00 PM EDT
Mon Oct 29, 01:26:00 PM EDT
Mon Oct 29, 01:28:00 PM EDT
Mon Oct 29, 01:32:00 PM EDT
Mon Oct 29, 01:34:00 PM EDT
Mon Oct 29, 01:35:00 PM EDT
Mon Oct 29, 01:36:00 PM EDT
Mon Oct 29, 01:36:00 PM EDT
Mon Oct 29, 01:54:00 PM EDT
Mon Oct 29, 02:06:00 PM EDT
Mon Oct 29, 02:08:00 PM EDT
Mon Oct 29, 02:12:00 PM EDT
Mon Oct 29, 02:14:00 PM EDT
Mon Oct 29, 02:15:00 PM EDT
Mon Oct 29, 02:18:00 PM EDT
Mon Oct 29, 02:20:00 PM EDT
Mon Oct 29, 02:36:00 PM EDT
Mon Oct 29, 02:40:00 PM EDT
Mon Oct 29, 02:45:00 PM EDT
Mon Oct 29, 02:47:00 PM EDT
Mon Oct 29, 02:53:00 PM EDT
Mon Oct 29, 03:03:00 PM EDT
Mon Oct 29, 03:09:00 PM EDT
Mon Oct 29, 03:22:00 PM EDT
Mon Oct 29, 03:30:00 PM EDT
Mon Oct 29, 03:39:00 PM EDT
Mon Oct 29, 03:42:00 PM EDT
Mon Oct 29, 03:42:00 PM EDT
Mon Oct 29, 03:46:00 PM EDT
Mon Oct 29, 04:16:00 PM EDT
Mon Oct 29, 04:23:00 PM EDT
Mon Oct 29, 04:25:00 PM EDT
Mon Oct 29, 04:38:00 PM EDT
Mon Oct 29, 04:53:00 PM EDT
Mon Oct 29, 04:54:00 PM EDT
Mon Oct 29, 05:06:00 PM EDT
Mon Oct 29, 05:10:00 PM EDT
Mon Oct 29, 05:12:00 PM EDT
Mon Oct 29, 05:22:00 PM EDT
Mon Oct 29, 05:22:00 PM EDT
Mon Oct 29, 05:27:00 PM EDT
Mon Oct 29, 05:48:00 PM EDT
Mon Oct 29, 05:56:00 PM EDT
Mon Oct 29, 06:01:00 PM EDT
Mon Oct 29, 06:02:00 PM EDT
Mon Oct 29, 06:07:00 PM EDT
Mon Oct 29, 06:14:00 PM EDT
Mon Oct 29, 06:49:00 PM EDT
Mon Oct 29, 07:02:00 PM EDT
Mon Oct 29, 07:35:00 PM EDT
Mon Oct 29, 07:48:00 PM EDT
Mon Oct 29, 08:22:00 PM EDT
Mon Oct 29, 08:31:00 PM EDT
Mon Oct 29, 08:54:00 PM EDT
Mon Oct 29, 09:04:00 PM EDT
Mon Oct 29, 09:06:00 PM EDT
Mon Oct 29, 09:08:00 PM EDT
Mon Oct 29, 09:20:00 PM EDT
Mon Oct 29, 09:25:00 PM EDT
Mon Oct 29, 09:30:00 PM EDT
Mon Oct 29, 09:30:00 PM EDT
Mon Oct 29, 09:50:00 PM EDT
Mon Oct 29, 09:52:00 PM EDT
Mon Oct 29, 09:53:00 PM EDT
Mon Oct 29, 10:10:00 PM EDT
Mon Oct 29, 10:15:00 PM EDT
Mon Oct 29, 10:18:00 PM EDT
Mon Oct 29, 10:24:00 PM EDT
Mon Oct 29, 10:25:00 PM EDT
Mon Oct 29, 10:32:00 PM EDT
Mon Oct 29, 10:46:00 PM EDT
Mon Oct 29, 11:00:00 PM EDT
Mon Oct 29, 11:08:00 PM EDT
Mon Oct 29, 11:32:00 PM EDT
Mon Oct 29, 11:51:00 PM EDT
Mon Oct 29, 11:52:00 PM EDT
Tue Oct 30, 12:00:00 AM EDT
Tue Oct 30, 12:06:00 AM EDT
Tue Oct 30, 12:12:00 AM EDT
Tue Oct 30, 12:35:00 AM EDT
Tue Oct 30, 12:49:00 AM EDT
Tue Oct 30, 01:07:00 AM EDT
Tue Oct 30, 01:16:00 AM EDT
Tue Oct 30, 01:30:00 AM EDT
Tue Oct 30, 01:39:00 AM EDT
Tue Oct 30, 01:50:00 AM EDT
Tue Oct 30, 02:04:00 AM EDT
Tue Oct 30, 02:32:00 AM EDT
Tue Oct 30, 02:47:00 AM EDT
Tue Oct 30, 03:10:00 AM EDT
Tue Oct 30, 03:18:00 AM EDT
Tue Oct 30, 03:41:00 AM EDT
Tue Oct 30, 06:56:00 AM EDT
Tue Oct 30, 07:28:00 AM EDT
Tue Oct 30, 08:17:00 AM EDT
Tue Oct 30, 08:58:00 AM EDT
Tue Oct 30, 09:02:00 AM EDT
Tue Oct 30, 09:07:00 AM EDT
Tue Oct 30, 09:11:00 AM EDT
Tue Oct 30, 09:49:00 AM EDT
Tue Oct 30, 09:58:00 AM EDT
Tue Oct 30, 09:58:00 AM EDT
Tue Oct 30, 10:00:00 AM EDT
Tue Oct 30, 10:05:00 AM EDT
Tue Oct 30, 10:07:00 AM EDT
Tue Oct 30, 10:08:00 AM EDT
Tue Oct 30, 10:46:00 AM EDT
Tue Oct 30, 11:13:00 AM EDT
Tue Oct 30, 11:38:00 AM EDT
Tue Oct 30, 11:46:00 AM EDT
Tue Oct 30, 12:12:00 PM EDT
Tue Oct 30, 12:16:00 PM EDT
Tue Oct 30, 12:24:00 PM EDT
Tue Oct 30, 12:49:00 PM EDT
Tue Oct 30, 01:12:00 PM EDT
Tue Oct 30, 01:16:00 PM EDT
Tue Oct 30, 01:27:00 PM EDT
Tue Oct 30, 01:34:00 PM EDT
Tue Oct 30, 01:47:00 PM EDT
Tue Oct 30, 01:49:00 PM EDT
Tue Oct 30, 02:18:00 PM EDT
Tue Oct 30, 02:25:00 PM EDT
Tue Oct 30, 02:27:00 PM EDT
Tue Oct 30, 02:54:00 PM EDT
Tue Oct 30, 03:00:00 PM EDT
Tue Oct 30, 03:15:00 PM EDT
Tue Oct 30, 03:48:00 PM EDT
Tue Oct 30, 03:51:00 PM EDT
Tue Oct 30, 03:53:00 PM EDT
Tue Oct 30, 04:00:00 PM EDT
Tue Oct 30, 04:21:00 PM EDT
Tue Oct 30, 04:22:00 PM EDT
Tue Oct 30, 05:08:00 PM EDT
Tue Oct 30, 05:34:00 PM EDT
Tue Oct 30, 05:36:00 PM EDT
Tue Oct 30, 05:40:00 PM EDT
Tue Oct 30, 05:49:00 PM EDT
Tue Oct 30, 05:52:00 PM EDT
Tue Oct 30, 05:56:00 PM EDT
Tue Oct 30, 06:11:00 PM EDT
Tue Oct 30, 06:58:00 PM EDT
Tue Oct 30, 07:25:00 PM EDT
Tue Oct 30, 08:02:00 PM EDT
Tue Oct 30, 08:37:00 PM EDT
Tue Oct 30, 08:45:00 PM EDT
Tue Oct 30, 09:09:00 PM EDT
Tue Oct 30, 10:28:00 PM EDT
Tue Oct 30, 10:34:00 PM EDT
Tue Oct 30, 10:55:00 PM EDT
Tue Oct 30, 11:25:00 PM EDT
Tue Oct 30, 11:43:00 PM EDT
Tue Oct 30, 11:49:00 PM EDT
Tue Oct 30, 11:58:00 PM EDT
Wed Oct 31, 12:03:00 AM EDT
Wed Oct 31, 12:08:00 AM EDT
Wed Oct 31, 12:12:00 AM EDT
Wed Oct 31, 12:37:00 AM EDT
Wed Oct 31, 12:40:00 AM EDT
Wed Oct 31, 12:40:00 AM EDT
Wed Oct 31, 12:46:00 AM EDT
Wed Oct 31, 12:55:00 AM EDT
Wed Oct 31, 01:11:00 AM EDT
Wed Oct 31, 01:12:00 AM EDT
Wed Oct 31, 01:29:00 AM EDT
Wed Oct 31, 01:32:00 AM EDT
Wed Oct 31, 02:53:00 AM EDT
Wed Oct 31, 04:45:00 AM EDT
Wed Oct 31, 07:33:00 AM EDT
Wed Oct 31, 08:35:00 AM EDT
Wed Oct 31, 08:49:00 AM EDT
Wed Oct 31, 09:07:00 AM EDT
Wed Oct 31, 09:43:00 AM EDT
Wed Oct 31, 09:44:00 AM EDT
Wed Oct 31, 09:44:00 AM EDT
Wed Oct 31, 09:53:00 AM EDT
Wed Oct 31, 10:16:00 AM EDT
Wed Oct 31, 10:20:00 AM EDT
Wed Oct 31, 11:21:00 AM EDT
Wed Oct 31, 11:29:00 AM EDT
Wed Oct 31, 12:09:00 PM EDT
Wed Oct 31, 12:44:00 PM EDT
Wed Oct 31, 01:41:00 PM EDT
Wed Oct 31, 02:07:00 PM EDT
Wed Oct 31, 02:10:00 PM EDT
Wed Oct 31, 02:27:00 PM EDT
Wed Oct 31, 03:21:00 PM EDT
Wed Oct 31, 04:17:00 PM EDT
Wed Oct 31, 04:29:00 PM EDT
Wed Oct 31, 04:38:00 PM EDT
Wed Oct 31, 04:42:00 PM EDT